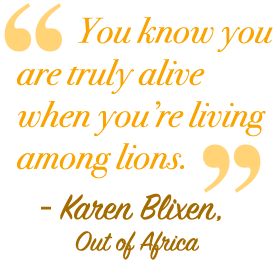 We have done the groundwork in Africa to ensure that our hunting packages are top class, with excellent accommodation, food and drink. We also engage the best Professional Hunters to lead our guests making sure that you have the best possible experience and hunters get the best shot at their dream trophy.
We are ethical hunters first and foremost and believe that every facet of hunting is important.
Our professional hunters are not only your hunting guides, but your teachers , meant to give you knowledge on the animals habits and habitats, to teach you the rudiments of tracking and to ensure you have a safe and fully immersive experience. They are there to help you and guide you into the best position for you to take your shot.
We believe that hunting is meant to be a true adventure and a challenge for the human spirit. It isn't just about the kill. It is a lifestyle that brings you close to nature, while allowing your inner explorer to flourish. You get from your safari what you put in it, so be prepared to walk a little and sweat a little, after all a day's effort in the hunting field is often rewarded by a cold beer by the fireside with a large venison steak and all the trimmings.

There are two main types of hunt that we do. A plains game safari is the best experience for any level of hunter, aimed mainly at quarry like antelope and other plains game (ostrich, zebra etc). Normally run over a week and normally includes the hunting of 3 game species. Even if you've never hunted before, our plains game safaris will turn you into a hunter.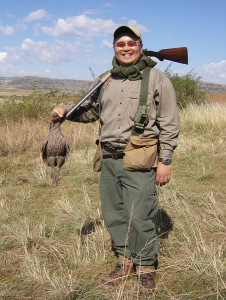 For advanced hunters who are seeking a test of mind and body, we offer dangerous game safaris as well. Hunting the Big Five is completely legal and a life changing experience. You have to be fit of body and mind and we suggest you have a few plains game safaris under your belt before you attempt this. As dangerous game is hunted on foot with large caliber rifles as the norm. On special request we will do dangerous game with a handgun or bow. We ask that any hunter prepare for this kind of hunt diligently with plenty of practice at the range and a proper regime of fitness training to help ensure your success.
We use vehicles in the spot and stalk method. An animal is sighted from the vehicle, at which point the hunters dismount and stalk it on foot. You may choose other methods of hunting depending on your level of experience, your level of physical fitness and other factors. Remember this is hunting, we try our best to put our hunters in the best positions to harvest their quarry, but nature is all powerful and beyond anyone's control. Our promise is that we will do all that is humanly practical to make sure your safari is an enjoyable and fruitful one.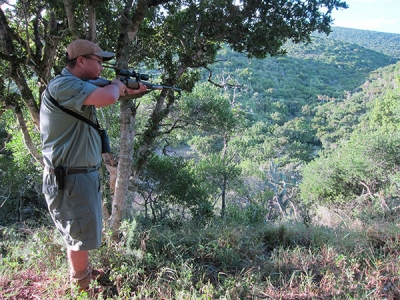 Our packages include Professional hunting services, hunting transport, tracking and skinning services, all firearms & ammunition, food, accommodation. Please note that our hunts do not include airport transfers, flights, taxidermy or shipping of trophies.
Call Guy @ +65 97953167 for a safari beyond your wildest dreams.