Clay shooting is also called clay pigeon shooting, a reminder of a time when live birds were used as targets. Now, participants shoot flying clay discs using shotguns. The sport challengers shooters with moving targets that fly with a great variety of trajectories, angles, speeds, elevations and distances.
The sport requires some hand-eye co-ordination and arm strength as the shotguns are heavy and do have some recoil. The sense of achievement is instantaneous when you hit your first flying target. Though not for the faint of heart, this event is incredibly exhilarating and exciting.
There are various disciplines within the sport.
Down The Line Trap Shotgun – Known in shooter's parlance as DTL this event entails aparticipant shooting at a moving target that is flying away from the shooter. Launched from a machine 16 metres in front of the shooter's position, the clay target travels at 35mph and drops after approximately 50 metres of flight.
Advanced shooters may ask for scoring to European DTL rules or ATA trap rules.
Sporting Clays Shotgun – Shoot moving clay targets that may be launched from any one of 17 machines including Rabbit and Teal launchers which simulate the run of a rabbit or the rocketing flight of the teal duck.
Advanced shooters may ask for a flush to be run, an exciting event that mimics driven game birds and real hunting. Alternatively, lessons can be conducted to strict FITASC or CPSA English Sporting rules.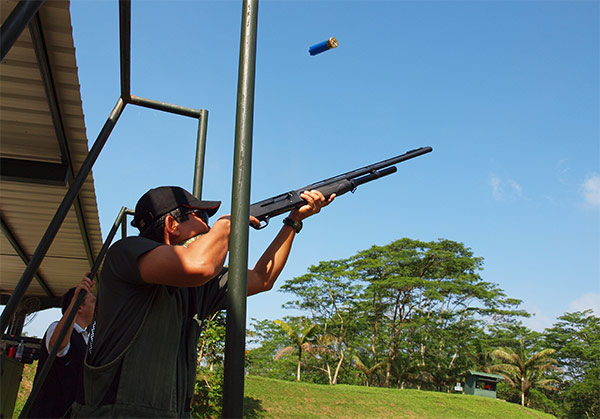 Trap, Double Trap & Skeet - Shoot Moving clay targets and learn an Olympic discipline. This family of events is the principle Olympic event for the world's shotgun shooters. The disciplines require physical strength, mental fortitude and humility. The targets are blazing fast and thrown as far as 80 metres, global average scores are high. Shooters strive for perfect scores on exceptionally difficult targets. Defined as easy to shoot, but tough to shoot well, expect single digit scores when you first start.